A gang leader paid for the funerals of a murdered journalist in Haiti – HB News
John Wesley Amadi was killed in Laboule. Was he a member of the G9 gang, or a journalist too close to the gang leader Jimmy Chérizier?
Lire en Français : Barbecue a payé pour l'enterrement d'un journaliste assassiné
It's under the rising sun that the group of people arrived at the crime scene in Laboule 12 on January 7. Two bodies, one of them face down on the ground and the other, with a blank expression, facing the sky, are lying near a gully. At least four perforating wounds can be seen on the body of John Wesley Amadi, two at his head and two at his stomach. A pair of projectiles ended up in the skull and neck of his companion, Wilguens Saint-Louis.
The crowd is astonished. Trigger-sensitive gangs share the crevices of the rugged locality overlooking the city of Port-au-Prince. That morning, it took a delegation of about twenty police officers, transported in three visibly overused pickup trucks, twenty journalists from the online media and a few family members of the victims to retrieve the dead bodies of the professionals brutally murdered the day before on the sidelines of a meeting with a local gang.
The group hurriedly put the bodies in body bags. Then, took them to the police station located in Pétion-Ville, twelve minutes from the scene of the tragedy. There, a justice of the peace authorized the transfer of the bodies to the Zenith mortuary on Enterrement Street.
Amadi and Saint-Louis are members of online media. That is why the journalists accompanied the family to the morgue as a gesture of solidarity. Inside the funeral home, a journalist approached John Wesley Amadi's sister at about 11 a.m. Stealthily, he handed her an envelope filled with money, a reporter said: it's a gift from Jimmy Cherizier, the fearsome leader of the gang coalition, G9.
The sister of the victim confirmed to HB News that the family had received money from this journalist. She reveals that the funeral services, initially fixed at 300,000 gourdes, did not cost them a penny. Former colleagues contributed. However, she refuses to reveal the exact contribution of Barbecue. The press worker also confirms that he and a colleague served as a liaison between the Delmas 2 kingpin and the family of the deceased. According to him, "providing this service does not harm anyone." He requests anonymity for security reasons.
***
The double murder of the city of Laboule 12 splits the online media community. It initiates a debate about the relationship between journalists and gangs, the job of "fixer" for the international media, the precarious situation of media workers, and the ethical gap that consumes many careers. It also highlights the growing impact of global platforms such as YouTube and Facebook, which pay well for " sensational " gang videos, creating an economic opportunity for young people, who are often left to struggle in a low-paid profession.
"John Wesley Amadi was a member of Jimmy Chérizier's team of communication," says a foreign journalist who had contacted him several times. According to the journalist, Amadi allowed the international press access to Jimmy Chérizier for 3,000 USD. Another journalist reported an average of 3,000 to 5,000 USD per interview.
The "fixers", a kind of escort for foreign workers, often require large fees, especially in dangerous countries. However, Amadi doesn't stop there. Ahead of one of Barbecue's many foreign press interviews, he made a point of sharing the outline of the gang leader's "development" program for the country. In addition, he coordinates and shows his collaboration with the G9 leader.
Lire aussi : Des bandits attaquent cette journaliste à Grand Ravine. Son média l'abandonne.
Amadi also shot most of Jimmy Cherizier's videos before and even after he began holding press conferences, two of his former colleagues' report. Most of these videos were posted on Barbecue's Facebook page before the company deleted his account.
John Wesley Amadi was Jeremy Dupin's driver when he was scheduled to shoot a barbecue video for the American media outlet Vice in 2020. Dupin says he can neither confirm nor deny Amadi's accusations of G9 membership. However, he is aware of his proximity to the gang. Before Amadi's death, a radio host denounced him in 2021 for his affiliation with illegal armed units. "There could be journalists paid by the G9 gang," Dupin said.
A third individual who went with Amadi and St. Louis to Laboule 12 was able to flee during the attack. After the carnage, participants in a WhatsApp group of online media journalists panicked. "Who would have thought that these are the guys who would have been killed by gang bullets," wrote one participant. "Gangsters never have friends," said a second group member.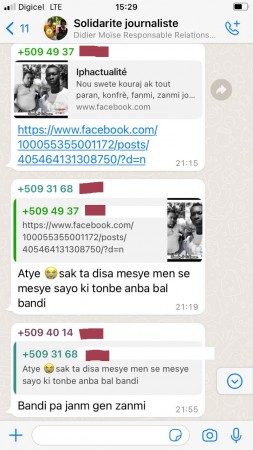 ***
There are few laws regulating the journalistic profession in Haiti. It is therefore up to individuals and institutions to structure ethics and deontology, which the law does not repress.
For the celebrations in Arcahaie on May 18, 2022, the government of Ariel Henry had granted the journalist money, confirmed two professionals aware of the distributions. In addition, NGOs often "like" the end of press conferences, referring to the well-established practice of direct transfers of money between journalists and their subjects.
The gangs also share some of their profits. An example of this process comes from August 2021. A confrontation between Izo and Manno at the French Embassy in Haiti. The institution accused the gang leaders of attempted extortion; in response, they invited online media journalists to a press conference. Six journalists attended.
After the conference, the concept of "affection" was discussed. "We have no money right now, but someone has to provide us with money from a kidnapping. If you can wait, we will have money for you," said Manno. According to the testimony of a person close to the journalists on-site, they waited and received a sum of US dollars. " The organizer did raise the money issue," one of the journalists at the conference told HB News. "But I didn't get anything, because the number of views generated by these kinds of videos can make us a lot more money than what the gang leaders provide."
Read also : La police a ciblé des journalistes lors de la manifestation des ouvriers
This visual content can be profitable. "I sometimes make 300 USD after posting a video, and I can make about 2,700 USD a month," says a community manager with more than 100,000 followers on Facebook.
"Dark" content, or content about gangs, is the most-watched. Therefore, they generate even more money. To produce these videos, you don't even need a journalism degree. Amadi didn't have one. Instead, he had a degree in "electronic engineering" when he was hired as an antenna manager at Radio Megastar in 2013 and 2014. According to one of his former colleagues, his salary was already low.
In 2018, while employed by radio Ecoute FM after leaving Megastar, he quickly travels to gang-controlled areas such as Savien, led by the late Odma, or Jean Denis which is the Ti Mepri area in Artibonite. His videos made the media's popularity.
"It is, unfortunately, a form of sensationalism," observed Harold Isaac, a journalist working in Haiti. He works for many media institutions around the world. Online, these young people engage in unethical competition for attention. It is also said that they sometimes ask for money from sources to publish content. Unfortunately, this situation is likely to get worse ", especially with the elections coming up," Isaac predicts.
***
The need for sensationalism and ideological classification also reaches the international media. Since the growth of gangs, foreign journalists often arrive in Haiti, asking gang leaders to be interviewed, sometimes in ways that country experts say are unethical. "Hate messages shared with a wide audience are an advertisement for terrorism," according to security expert James Boyard.
The gangs understand the game and are positioning themselves to take advantage of it. On August 1st, 2021, the French media M6 published an "exclusive" investigation on the gangs in Haiti. A few weeks earlier, Amadi and another Haitian journalist had been asked by this media to arrange an interview with Lanmò San Jou, the leader of the 400 Mawozo gang. This gang kidnapped three French members of the religious community on April 11, 2021.
"Lanmò San Jou had asked for 20,000 USD to do this interview," the other journalist in charge of negotiating with the gang leader told HB News.
Lire enfin : Ce journaliste a reçu une balle en plein œil. Il revient à la charge.
M6 refused to pay for this interview, according to the media worker. Lanmò San Jou, advised by Germine Joly (Yonyon) from his prison cell, would not give the interview for anything. On the contrary, he will let the French clerics go after sniffing white powder in their presence and shooting a goat.
However, some foreign media find ways to interview gang leaders without violating the principle of non-payment of sources, which is part of their internal procedures: "They pay the fixers handsomely, who in turn pay the gangs and their allies," explains a Haitian journalist who has worked with international media.
John Wesley Amadi's connections to Haitian gangsters have alternately served the local and international media structure. He lived in a dilapidated house in the Wharf Jérémie neighborhood, the area of gang leader Micanor, and sometimes stayed at the Marriott Hotel in Port-au-Prince, all paid for by foreign companies to get the latest statements from the gangs. When he died, a Go Fund Me page launched in Jeremy Dupin's name collected 10,530 USD. The goal was 20,000 USD.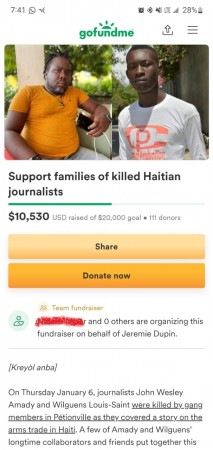 Amadi's body, face down, and the empty body of Wilguens Saint-Louis, were found near a ravine in Laboule 12, on a Monday of last January. The gangsters stripped the two professionals of their bags and all their equipment. And John Wesley Amadi was also deprived of a pair of fancy sneakers, a gift from a team of foreign journalists who had traveled to Haiti, two sources said.
Cover photo by Mackline Jeudy.
English translation by Didenique Jocelyn.