Fake "US visas" are sold by prisoners from Haiti's national prison – HB News
"The national prison seems to be a huge hotel where the prisoners have access to almost everything: smartphones, drugs, etc."
Lire en Français : Des prisonniers du pénitencier national vendent de faux « visas américains »
Joan's sister asked him for 600 USD to obtain a US visa, at which point Joan knew it was a scam. But he could not imagine the origin or depth of the fraud.
In early 2022, in March, Markenndy Tristan sent a Facebook friend request to his sister, which she accepted. Facebook is her favorite media. She enjoys spending time on Facebook and posting pictures all day. This Facebook new friend was eager to know her better." He started texting her," says Joan," and she was texting back". Suddenly, the chat subject changed completely. He started telling her he loves her."
The young single woman is seduced by the man who told her that he lives in the United States with his ten-year-old daughter and that he is looking for a second wife to help him take care of his child because his wife died of Covid-19.
They moved from Facebook to WhatsApp where they held steady conversations. The man even requested to meet her parents to prove that he was serious and honest about his commitment." A few days following the first messages, he sent her a request. "I found a way to help you come to the United States," Tristan explains. I know a pastor who is going on a mission trip to Haiti and he's going with some church members. But you need to have a church membership card first."
Read also : Barbecue a payé pour l'enterrement d'un journaliste assassiné
Markenndy Tristan wants to be assured that his future wife can handle herself and can make the first steps. She must first collect 600 USD for the membership card and visa fees. She received the instructions on how and to who to send the money. Once everything is settled, Tristan will pay the rest of the money for the trip organization. 
The excited young woman has no idea that a prisoner of the national penitentiary is probably hiding behind all these messages of love and hope to have a happy wedding. In this prison, selling fake U.S. visas seems to be a profitable business for most inmates who have a phone. But unfortunately, it is difficult to know the exact number of victims trapped by these messages on social networks.
The sister of Joan would have been another victim if Tristan had not made a mistake. Or better if Joan had not been so suspicious from the beginning." The story seemed weird". As I have an international number, I decided to call Markenndy Tristan. When he picked up the phone, there was a lot of noise, and I heard people speaking Creole. I spoke English, and there was silence on the other side," reports the young photographer.
He had just told my sister that he went to the supermarket. "I asked my sister to make a video call. He declined the call each time. My sister told me that they used to have video calls, but she could never see his face because he was always in the dark.
Another thing catched Joan'attention: "he has over 2,000 friends on Facebook and none of them is a man" he said.
Read also : Le sexe sans protection augmente les infectés du VIH dans les prisons haïtiennes
With the evidence that she was almost swindled, she stopped talking to him. Tristan then blocked her on the social media where they used to chat.
Later on, an inmate who is a family member explained that this is a widespread fraud practice at the National Penitentiary. In a voice note he sent to them, he affirmed how easy it was to handle such a scam in the prison. At this time, he was not aware that Joan's sister had been nearly scammed in this way by one of the prisoners with the account named "Markendy Tristan."
 "It only takes a little bit of sweet-talk" said this prisoner, "we are really caring. We know how to show love. In fact, we are in a prison where we have nothing better to do. Once the person trusts you, they will do whatever you ask them to do."
According to Joan, this prisoner revealed that he was himself trying to scam a policewoman, using the same US visa prank. The chosen victims send their passports and money to an external accomplice. Then they affixed a rough replica of a visa, with plenty of typos to the travel document.
Per the prisoner who sent to voice note, the money is often used to cover lawyers' fees or to do business within the prison. There is no lack of products: the national prison is a " business space," according to an investigator who works for a locally based human rights organization that has ongoing access to the prison.
"I haven't heard about the visa yet," this source admits. But there is a lot of traffic in prison. They get provisions from outside, and some items get through the screening process or are not screened at all. This trade goes on between the outside and the inside of the prison, especially during break times. "To find everything in the prison, you have to ask the prison chief," he said. "
Yves Garçon spent 90 days in jail after a bloody street fight. Even in 2006, when you entered the national prison, you must have money to buy a bed," he says, "otherwise you will sleep directly on the floor. They can steal the bed sheet that your loved ones give you. It's better to buy it inside. It's up to you to sell or buy in prison."
Read : Liens bizarres entre un prisonnier au pénitencier national, l'assassinat de Jovenel Moïse et l'affaire Petit Bois
Some prisoners have a reputation as businessmen, and police officers are getting involved too. "I bought a pair of Jordans," said Garçon. It's funny, I got out of jail with more clothes than I had before.
Prison food is not eaten because it is considered bad. Therefore, the money transferred to prisoners is used for this purpose. However, according to the source working with the human rights organization, the transfers are huge sometimes, "prisoners can receive up to 2,500 gourdes, he said. This is not really allowed but tolerated because it was necessary to buy food or medicine on the outside. However, we have seen transfer receipts from 3.000 to 10.000 USD."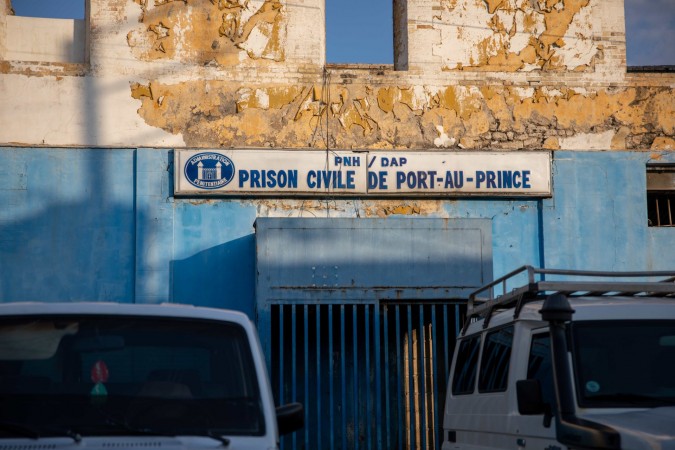 The Port-au-Prince prison is like a mini Wall Street because money is everywhere. Ana is a policewoman working in the prison. She requires to be an anonymous source to prevent his work from being affected. According to her, despite all its problems, the national prison is one of the safest prisons in the country. There are four watchtowers to respond quickly during riots. However, the danger is not only from the prisoners but also from the coworkers. "Some prisoners are more comfortable than the prison director. They have money and a police officer who has no self-respect can be corrupted."
For another officer of the Épines, the country's prison response unit, an anonymous source, the prison environment is risky for police officers. "The officers working inside the prison have to be smart and hope for divine help. When there is a cell count, they go in twos, unarmed. Two face-to-face a cell of hundreds of prisoners. And they can't trust their partner with whom they are paired."
Finally, read : Les prisons en Haïti sont horribles. Pour les femmes, c'est l'enfer.
The national prison is the largest prison center in Haiti, but it is not the only one in this situation. Trading has become an almost normal activity in other prisons as well. In February 2022, The Je Klere Foundation published a report to protest the condition of the Croix-des-Bouquets prison. The police have left their workstations. The prisoners, on their own initiative, organize themselves. Some prisoners sell the prison food to their cellmates for 200 gourdes. There is also a price for drinking water: up 500 gourdes per gallon. The NGO sounded the alarm, which could have been the same for other prison centers.
A report released in June 2021 by the United Nations Integrated Office in Haiti said on May 31, 2021, 10,801 men, 436 women, 240 boys, and 23 girls were in custody in the different penitentiary centers prison in Haiti.
The photos (except the fake visa) are by Carvens Adelson for HB News